A copy of the U.S. Constitution to fit in your pocket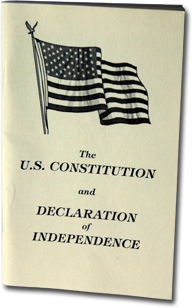 Everybody talks about the Constitution, they tell you what is constitutional and what isn't. Why not have your own personal copy of it. Finally, the US Constitution and the Declaration of Independence (including The Bill of Rights) together in one handy pocket-sized book that you can carry with you, in your shirt pocket, back pocket or purse.
Makes a great education tool for children/students. The Pocket Constitution makes a thoughtful caring gift for birthdays, Christmas stocking stuffers, graduation, Fathers Day, Mothers Day, all occasions.
This is an attractive, complete and unabridged copy of our founding documents, which many say are the finest documents ever penned by man, combined in pocket-sized, sturdy book form.
Know your rights and liberties, order today.
$5.95 per book for orders of 1-29 books
$4.95 per book for orders of 30 - 99 books
$3.95 per book for orders of 100 - 999 books
$2.95 per book for orders for 1000 books or more
(Handling/applicable taxes/shipping included in price for U.S. Orders)
To order online with PayPal fill in the blank and click the Buy Now button.
How many books would you like to order?